The rubber granulate is obtained with modern technology of multiple mechanical grinding of waste tires, while separating steel and textiles. The granulate is gradually sieved in special sieves to obtain different sizes of granules or rubber powder (granulation).
Rubber mulch are obtained by grinding different types of tires on special machines designed for this purpose.
Rubber granulate, rubber powder and rubber threads are used to make a wide range of products such as: sports grounds and protective floor coverings, barn lining, roof insulation lining, sound barriers in construction, various road markings, soles for shoes, full tires for trolleys and trash cans, car parts, various presses, porous bituminous binders, asphalt additives, etc.
The basic packaging is in Big Bag bags of approx. 1100 kg. In addition to these basic, by agreement, the production of other granulations as well as different packages is possible.
Rubber mulch - GB xx xx (granulation [mm]: different)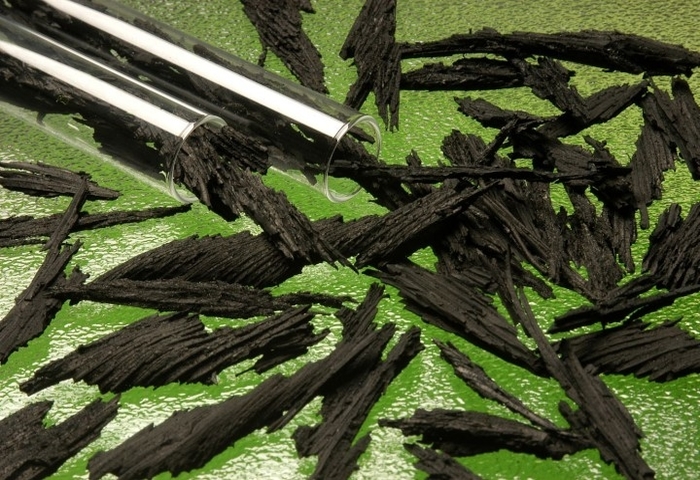 Application
Playground mats
Rubber linings protective - mitigate falls and prevent injuries
Rubber lining elastic
various pressed products
Quality
steel content: 0%
Textile content: 0%
Packaging
Big Bag (FIBC) bag dimensions: 0.95 x 0.95 x 2.00 m weight: approx 1000 kg on pallet or without pallet
Commercial packing of dimensions: different weight: from 5-30 kg on a pallet wrapped with foil
Dimensions Granulation of rubber threads
GB 00 08: 0.0 - 0.8 mm
GB 08 15: 0.8 - 1.5 mm
GB 08 20: 0.8 - 2.0 mm
GB 15 30: 1.5 - 3.0 mm
GB 20 50: 2.0 - 5.0 mm
GB 30 50: 3.0 - 5.0 mm
GB 50 +:> 5.0 mm
Rubber granulate –GG 05 20 (Granulation [mm]: 0.5 - 2.0)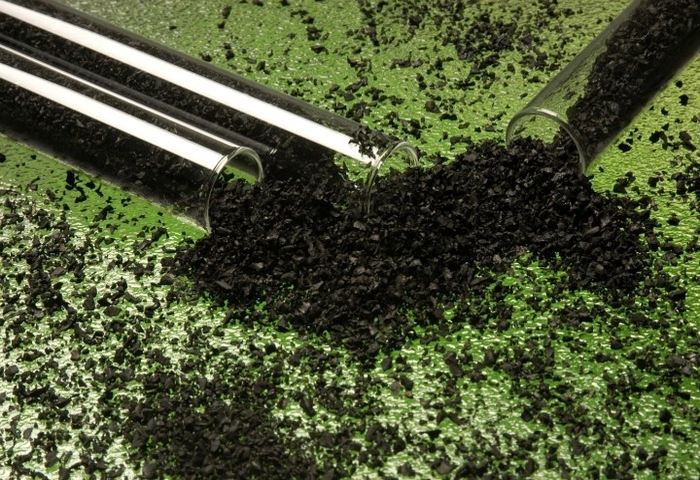 Application
football - artificial turf fill
sports grounds (tennis, athletics, outdoor sports fields, indoor sports fields…)
playground mats
rubber linings protective - mitigate falls and prevent injuries
rubber lining elastic
rubber linings in barns
rubber bands for sound insulation and anti-vibration
addition of asphalt - reducing braking distance, noise reduction, vibration
various pressed products
traffic signalization - "recumbent police officers", sign stands, parking poles, road barriers
railway and tram crossings
Quality
steel content: 0%
Textile content: <0.05%
constant granulometric testing in our own laboratory
Packaging
Big Bag (FIBC) bag dimensions: 0.95 x 0.95 x 2.00 m weight: approx. 1050 kg on or without pallet
commercial packaging of dimensions: different weight: from 5-30 kg on a pallet wrapped with foil
Dimensions of granules
Rubber granulate - GG 20 35 (Granulation [mm]: 2.0 - 3.5)

Application
football - artificial turf fill
sports grounds (tennis, athletics, outdoor sports fields, indoor sports fields…)
Playground mats
Rubber linings protective - mitigate falls and prevent injuries
Rubber lining elastic
Rubber linings in barns
rubber bands for sound insulation and anti-vibration
addition of asphalt - reducing braking distance, noise reduction, vibration
various pressed products
traffic signalization - "recumbent police officers", sign stands, parking poles, railway crossings, road barriers
Quality
steel content: 0%
Textile content: <0.05%
constant granulometric testing in our own laboratory
Packaging
Big Bag (FIBC) bag dimensions: 0.95 x 0.95 x 2.00 m weight: approx. 1050 kg on or without pallet
Commercial packing of dimensions: different weight: from 5-30 kg on a pallet wrapped with foil
Granulation dimension
Rubber powder - GG 00 05 (granulation [mm]: 0.0 - 0.5)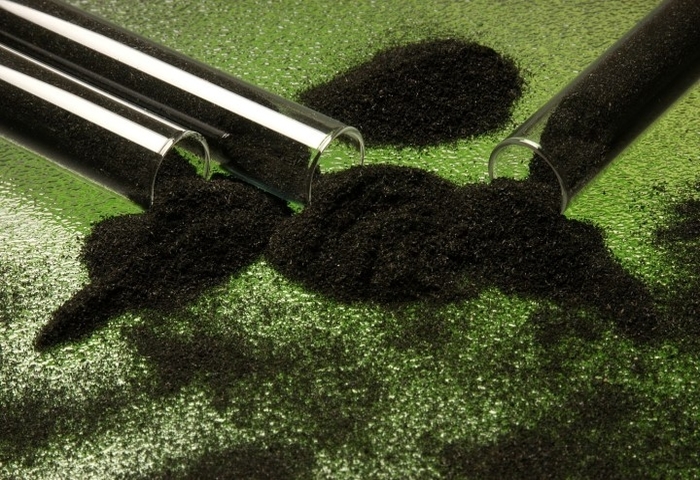 Application
addition of asphalt - reducing braking distance, noise reduction, vibration
mixtures for the rubber industry
addition of new tire production mixtures
various pressed products
soles for footwear
lawn mower tires and rubbish bin tires
Rubber pipes
car parts - brakes, interior parts, steering wheels, compartments…
new materials - thermoplastics, thermoplastics
Quality
steel content: 0%
Textile content: <0.05%
constant granulometric testing in our own laboratory
Packaging
Big Bag (FIBC) bag dimensions: 0.95 x 0.95 x 2.00 m weight: approx. 1050 kg on or without pallet
Commercial packing of dimensions: different weight: from 5-30 kg on a pallet wrapped with foil
Granulation dimension
Over 50 years of experience and tradition
Professional and long term partnership with customers and suppliers
High quality rubber products and services
Production +7000 rubber technical products annually