At the end of 2019, Gumiimpex-GRP closed another successful year in business and entered 2020 with big plans, the year 2020, in which Gumiimpex celebrated its 50th anniversary on April 20th.
Throughout 2020, which was challenging for both Gumiimpex and its employees, both personally and professionally, due to the appearance of the coronavirus, we managed to reach the end of the year with the intention of forgetting 2020 and all the difficulties we had in it.
The year we should have remembered after the 50th anniversary of our existence, will be remembered as the year when our founder, Mr. Rudolf Kirić, left us.
He left us abruptly on November 25, 2020, at the age of 77 after a short and severe illness. Unfortunately, due to epidemiological measures, he could not get the farewell he deserved from an environment where he did a lot firstly as a human and as an entrepreneur. He went to his last resting place quietly and without pomp in the circle of his closest family.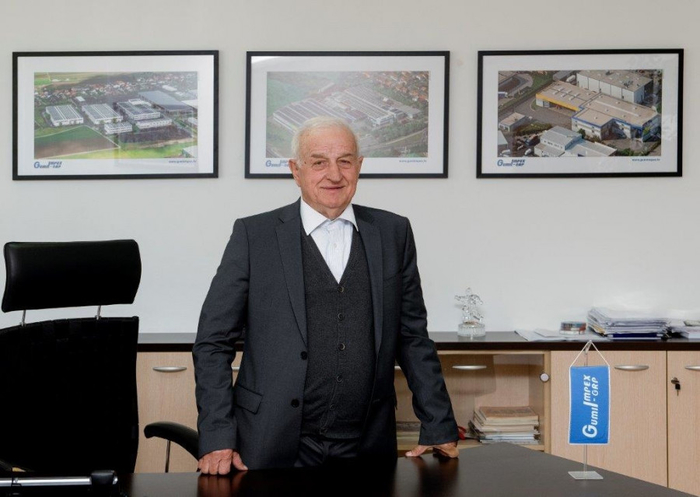 Rudolf Kirić was born on April 15, 1944, in Svibovec Podravski. He learned the trade of a vulcanizer in 1961 in Varaždin, after which he got a job in the Varaždin Vulcanization craft shop.
As early as the end of the 1960s, he founded a private vulcanization company, which he opened in 1970 on the site of a former smithy.
Thanks to his vision and perseverance, he expands the rubber business, and the successful business grows into the family company Gumiimpex-GRP d.o.o. which today employs over 400 employees and achieves results that are unrealistic for our circumstances and is considered a leader not only in the modern Varaždin economy and manufacturing industry but also the whole region.
He will be remembered as a great and humble man above all, a beloved husband, a caring father to his children, a grandfather adored by his grandchildren, a sincere friend, strict but always fair and affectionately called Šef to his employees, a passionate hunter, an excellent entrepreneur, and world traveler. But he will also be remembered as a man, who is always ready at all times and in any way to help someone in need.
Unfortunately, he lost this battle with the disease and left us too soon, but he left to all of us who knew him, a shining example of what we can and should do, to make our life path right and fulfilled.
Dear Šef, rest in peace.